Railway minister warns demonstrating gatekeepers
It's been two weeks since temporary gatekeepers started a demonstration to make their jobs permanent, even attempting "fast unto death" for their goal. While the rail minister was speaking to reporters yesterday, hundreds of gatekeepers gathered outside Rail Bhaban to stress on bringing their positions under the revenue budget. Photo: Rashed Shumon
">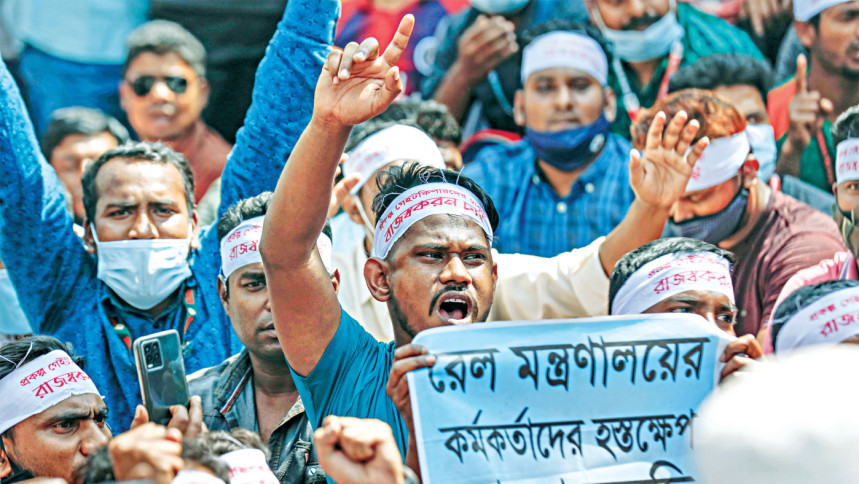 It's been two weeks since temporary gatekeepers started a demonstration to make their jobs permanent, even attempting "fast unto death" for their goal. While the rail minister was speaking to reporters yesterday, hundreds of gatekeepers gathered outside Rail Bhaban to stress on bringing their positions under the revenue budget. Photo: Rashed Shumon
Railways Minister Nurul Islam Sujan yesterday said his ministry will resort to tough measures, if the temporary gatekeepers who are demonstrating do not return to their posts.
"We are considering whether action should be taken against them. There must be discipline. Things cannot go on like this," Sujan told journalists at his office at Rail Bhaban.
The temporary gatekeepers have been demonstrating since February 27, with the demand to make their jobs permanent.
Meanwhile, as the minister was talking to reporters, several hundred gatekeepers took position outside the Rail Bhaban premises to press home their demand to bring their jobs under revenue budget.
A total of 1,889 gatekeepers were appointed in early 2018 under two railway projects that Bangladesh Railway (BR) took up to rehabilitate and improve level crossings.
Since February 27, they have been observing a "fast unto death" in front of Dhaka Divisional Railway Manager's office, beside Kamalapur Rail Station, but yesterday they took position outside the Rail Bhaban, as  authorities did not pay heed to their demands.
Sujan said they were appointed on a temporary basis under projects, and there is a government decision that prevents bringing project workers to the revenue budget directly.
Given this, they have to go through a recruitment process to make their jobs permanent, Sujan mentioned, adding that the temporary gatekeepers will be given priority. Besides, the ministry has also sent a proposal to extend the project tenure by three years.
"If they continue their demonstration with this illogical demand, we will take action against them," he said. "We did not use force till now, but that could change."
Al Mamun Sheikh, coordinator of the movement, said they will return to Kamalapur to continue their "fast unto death", as they did not get any satisfactory reply from the authorities.
"We will declare our next course of action tomorrow [today]," he told The Daily Star yesterday.