Jahangir Alam at his fish farm in Mymensingh's Phulpur upazila. Photo: Hridoye Mati O Manush

">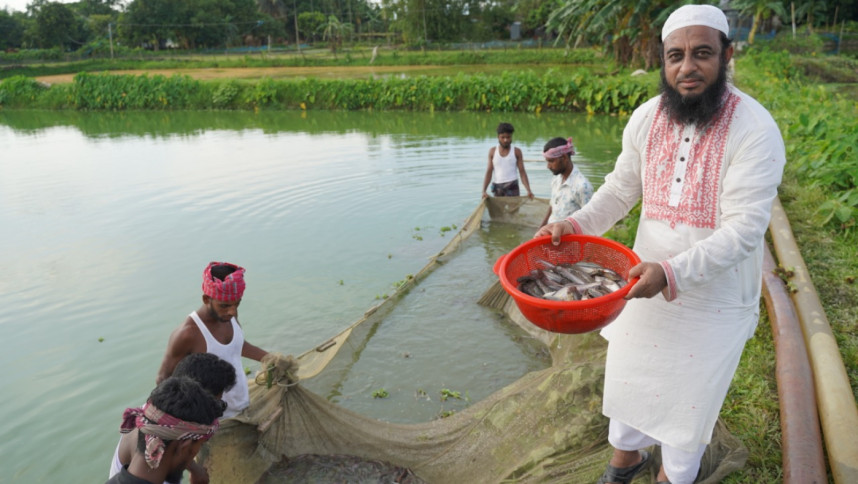 Jahangir Alam at his fish farm in Mymensingh's Phulpur upazila. Photo: Hridoye Mati O Manush
One can see the Garo hills, green horizon, vast croplands and ponds after ponds from Balia village in Mymensingh's Phulpur upazila. Once paddy and jute were the main staple crops of this region, but in the last three decades it has flourished in fish farming. Fish production is increasing here even more as new entrepreneurs continue joining the business.
Jahangir Alam is one such local entrepreneur who started fish production nearly 20 years back. He used to be in his family business of selling sanitary products. At that time, local youths were entering fish farming and earning good profits, which inspired Jahangir to change profession.
He took lease of five acres of land, dug a pond and started his dream venture. He gathered the money for investment– Tk 5 lakh (USD 4,955)–by selling his wife's gold jewellery.
In the first year, Jahangir sold fishes worth Tk 9.5 lakh and made a profit of Tk 4.5 lakh (USD 4,460). He bought new jewellery for his wife with the profit. He never had to look back since.
Starting with koi and tilapia, Jahangir realised that he needed to do something exceptional in order to get the desired success. But if the fingerlings are not of good quality, there won't be a good production. So, he started producing fingerlings in his hatchery.
The fingerlings produced in his hatchery are on high demand and production has increased also. Jahangir has 46 ponds currently and 30 workers. His family is quite well-off now.
But he also had to overcome hardship. Once, all of his ponds were submerged under water due to heavy rainfall and fish worth about Tk 70 lakh (USD 69,260) were washed away overnight.
However, he knew where there is profit, there is also possibility of loss. So, he took it easy and patiently turned around.
Jahangir is also a national level gold medal winner for bringing indigenous species of Shing (Heteropneustes fossilis) fish under cultivation through artificial breeding.
Jahangir said the present time is not in favour of fish trading as climate change is adversely affecting this sector while on the other hand fish farmers are facing multifaceted problems in production and marketing sectors. The price hike of fish medicines has become a constant issue.
That's why, at this time, Jahangir is not thinking about profit rather trying to handle entrepreneurship by applying varied methods, he says.
He planted many papaya and banana trees along the edges of his ponds and is cultivating various vegetables as well.
Being inspired by Jahangir, many people in the area also opted for fish production. One of them is Robin Mujahid. He used to work in Singapore. When he returned home for vacation, he was inspired by the changed economy of his locality due to fish farming. He decided to not return to Singapore and start his own fish farms. Now, Robin is earning Tk 15 lakh (USD 14,853) each year from his two ponds.
According to a recent report of the Food and Agriculture Organization of the United Nations (FAO), Bangladesh ranks third in the world in terms of inland fish production, fifth in closed pond cultured fish production, fourth in tilapia production and first in hilsa production.
Bangladesh is now a leader in fish production. About four crore (40 million) people are either directly or indirectly involved in the fisheries sector. Most of the modern technologies have spread throughout the country to increase production. Young, medium-scale traders and large industrial companies, have also started modern fish farming with the assistance of technology.
Efforts are being made to increase fish production by using various technologies including recirculating aquaculture system (RAS), biofloc, bottom clean or in-pond raceway system, and bring various methods of fish farming under public and private ends.
However, when world fish production is increasing, total fish stocks are decreasing. In 1990, Bangladesh's fish stock was 90 percent, but it came down to 65 percent in 2018 as many fish species are disappearing.
Bangladesh Fisheries Research Institute is working on the issue. Apart from this, innovative-minded fish farmers like Jahangir are also working to bring indigenous fish species under cultivation. Our farmers must be able to produce fish in such an environment which will allow them to enter the international fish market.