Before 1947, it was all about trade. East Bengal, predominantly Muslim, didn't have enough cattle to meet its demand for beef. Economics came into play.
Cattle from the western parts
of British India — wherever supply exceeded demand — were herded across and sold.
"There was always a large beef-eating population in East and West Bengal and cattle would be brought from different states to meet that demand," says Anish Sengupta, a professor of history in a Kolkata college.
That was trade. Seventy-five years later, the same economic principles are playing out. Except, now it is in the form of smuggling cattle across treacherous rivers and risky borders.
Every year, more than 2 million Indian cattle are smuggled to Bangladesh, officials and former smugglers told TOI. This is made possible by the porous India-Bangladesh border, of which 2,217 km outlines West Bengal and 579 km is unfenced due to the presence of rivers and marshes. Border Security Force (BSF) officials say most of the unfenced riverine stretch is in south Bengal, and a little more than 100km in north Bengal.
Take Imambazar Mahaldarpara, for instance. It is one of Bengal's most isolated villages, situated in a remote part of Murshidabad on the India-Bangladesh border. The nearest town, Berhampore, is almost 100km away and the village does not have a pucca road, health centre, market or even sanitation facilities. Yet, it is a thriving transit point for cattle smuggled from Punjab, Haryana, Rajasthan and western UP more than 1,500 km away.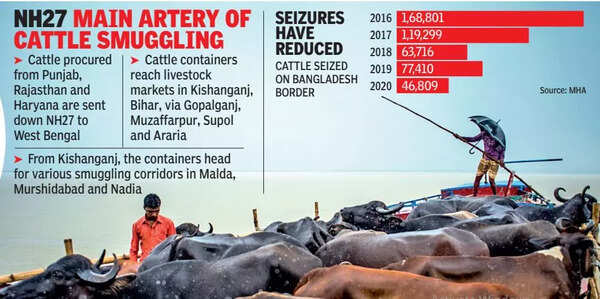 Cattle smuggling thrives along the confluence of the Ganga, Padma and Bhagirathi rivers, where Imambazar is situated. Jagtai, Noorpur, Debipur, Hamidpur, Wajibpur and many other Bengal villages are also important links on the multibillion-dollar cattle smuggling routes in the state.
Risking bullets for a living
Imambazar resident Zainul Abedin, 28, used to be a 'cattle runner' till a couple of years ago. He said young men like him are paid to guide pairs of cattle across the river. "To avoid drowning we would latch on to their tails as they swam upstream to Bangladesh. We would be paid anything from Rs 1,500 to Rs 2,500 depending on the condition of the river and the vigilance by authorities."
Abedin now works as a daily wage labourer in Kerala because strict vigilance by the BSF has "shut down the cattle trade…. They just shoot at anybody found moving suspiciously along the border."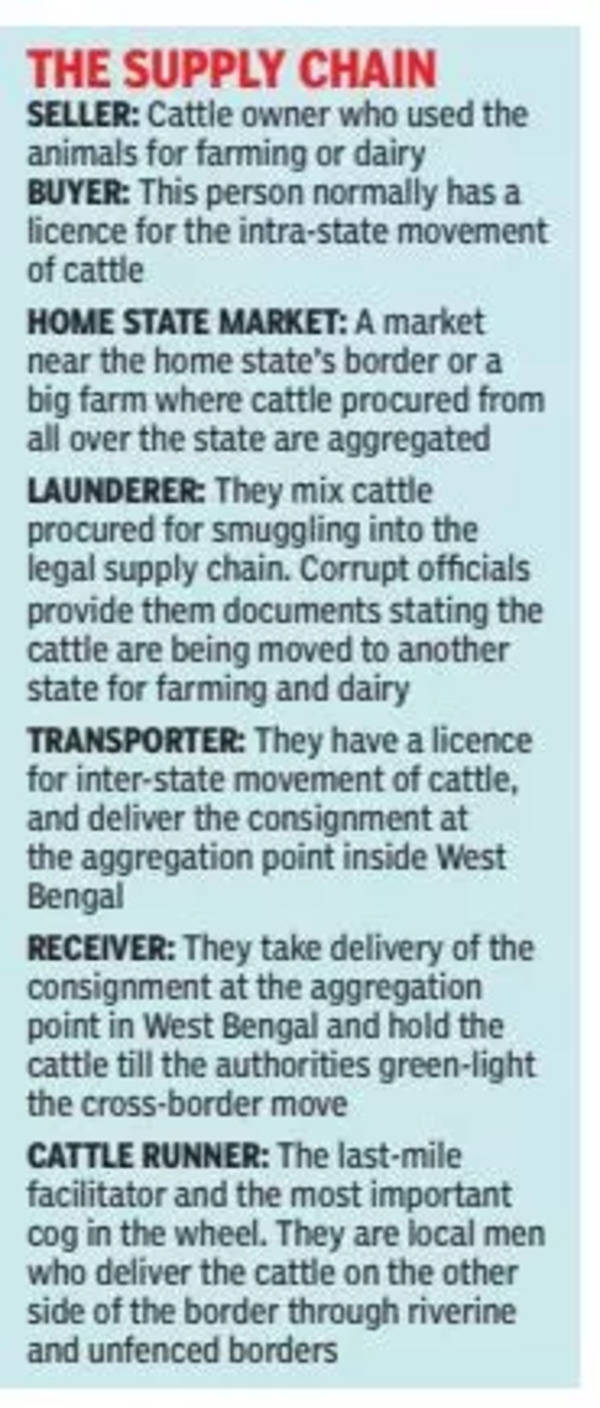 "The demand in Bangladesh is high throughout the year but it peaks before Eid and Bakrid. However, strict vigilance has brought the trade in most of the corridors to a halt for the time being," another former smuggler told TOI.
But hundreds of villagers are still part of the cattle supply chain. Every village along the border has a chief who commands a team of cattle runners. The chiefs pay off the local police, politicians and BSF personnel before a consignment arrives and house the cattle in their village before they are sent across the border.
"The money was good, but the spoils were shared among several people in the chain, from local cops to politicians across parties and the BSF. We would take delivery of the cattle near our villages and were responsible for making them cross the border," said Sohrab Hossain, who used to lead a band of cattle runners.
Many fingers in the pie

How are hundreds of thousands of cattle slipped across the border unnoticed? ACBI report shows how the illegal trade works with the connivance of all.
Between December 2015 and April 2017, the BSF seized more than 20,000 cows along the border in Murshidabad. But a section of BSF officials underreported the breeds and number of cattle in their seizure memos. Then, customs officials undervalued the cattle further at auction to help the cartels get them at a much lower price. In exchange, the cattle traders paid between Rs 500 and Rs 2,000 per head of cattle to the customs and BSF officials.
Cattle and their transporters sometimes traverse more than 1,500km in big lorries or containers, and a wide network of intermediaries aided by local municipal officials, vets and police also helps in transporting the animals from sellers in the northern and western states to the Bangladesh border in West Bengal.
"The risk is worth it because cattle from India fetch a good price in Bangladesh. On festivals it can go up to 2. 5 times the cost price," said a cattle smuggler in Murshidabad's Lalgola. He makes Rs 25,000-35,000 per head of cattle, but transportation and bribes amount to Rs 15,000. "Across the border the same animal is worth Rs 70,000 to Rs 80,000," he said.
Close watch on border now
While rumours of their involvement are rife, politicians, police and BSF personnel deny they have a hand in the smuggling. "In fact, we are taking several steps like installing night-vision cameras, increased patrolling and communication with locals to thwart attempts at cattle smuggling," said Ashoke Kumar Singha, commandant, 86 Battalion, in the SutiSamserganj area.
Surinder Singh, SP of Murshidabad Police district, said, "We have arrested many people for their involvement in smuggling. We have strengthened our sources to check smuggling."