More than 1,000 farmers are growing pumpkins in mango orchards in Bholahat upazila of Chapainawabganj as an inter-crop. Growers are increasingly becoming interested in the vegetable since it is raising their incomes during the time of the year when their fruit gardens remain unutilised. The photo was taken recently.
PHOTO: RABIUL HASAN
">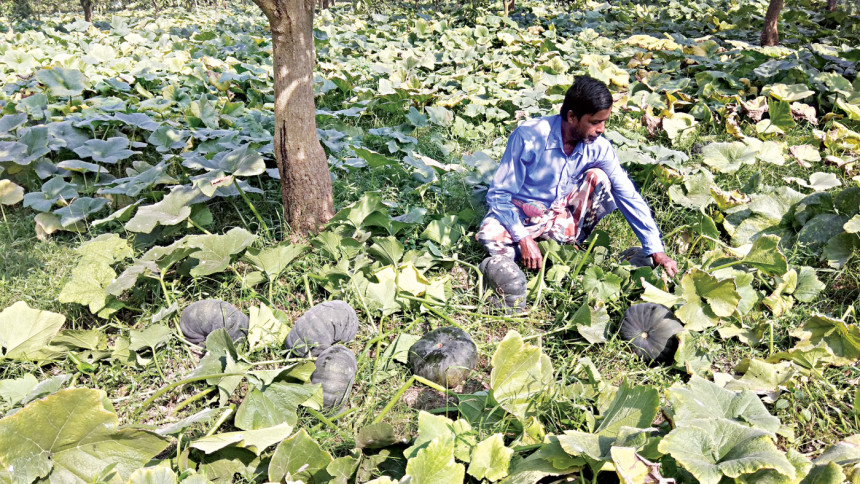 More than 1,000 farmers are growing pumpkins in mango orchards in Bholahat upazila of Chapainawabganj as an inter-crop. Growers are increasingly becoming interested in the vegetable since it is raising their incomes during the time of the year when their fruit gardens remain unutilised. The photo was taken recently.
PHOTO: RABIUL HASAN
Farmers are increasingly growing pumpkins in mango orchards in the Bholahat upazila of Chapainawabganj as an inter-crop and are making good profit by selling the produce, a move that would allow them to make the most of the land.
Farmers have been growing pumpkins in mango orchards for the last three years. They usually start cultivating pumpkins in September and collect the vegetable after 80 to 90 days.
Pumpkins are grown in both winter and summer seasons and the production has increased over the years.
This year, farmers in Bholahat have grown the vegetable on 200 hectares of land while it was 40 hectares last year.
The cultivation of pumpkins in mango orchards is raising the incomes of farmers since the fields would have remained largely unutilised for the rest of the time of the year after they sell the fruits.
Torikul Islam, a farmer of Bahadurganj in Bholahat, cultivated pumpkins on 2.5 bighas of land in the Folimari area in September at an investment of Tk 20,000.
He has already earned Tk 68,000 by selling the vegetable and is hoping to clock more profits from the remaining crop.
"After we had sold mangoes, my orchards would have remained fully abandoned in the past. Following the advice from the local agriculture office, many farmers are now cultivating pumpkins on mango orchards and are making additional income."
Azam Ali, a farmer in Radhanagar village, cultivated pumpkins on 15 bighas of land and invested Tk 2 lakh to prepare the fields.
He hopes to receive Tk 5 lakh after selling pumpkins.
"Mango orchards are suitable for cultivating pumpkins. So, I have grown pumpkins on the orchards as an inter-crop. I hope to make money during lean seasons."
He cultivated pumpkins in eight bighas of land last year. "Last year, I also earned a handsome amount of money," he said.
Cultivating pumpkins is less expensive in the mango orchards since farmers only have to pay for watering and buying fertilisers.
The cultivation of the vegetable is getting popular in the northern upazila since a small amount of funds are required to grow the crop in the fields and no extra land is needed.
Liakat Ali, a farmer in Bazratak, cultivated pumpkins on two bighas of land. He invested Tk 20,000.
He has already sold pumpkins worth Tk 40,000 and is expected to generate more revenues.
Farmers are using eco-friendly pheromone traps to keep insects at bay instead of insecticides or pesticides.
The method has appeared to be a blessing against the backdrop of the random use of toxic pesticides, which threaten the ecological balance and public health, farmers say.
Liakat is also using pheromone traps to protect his crop from insects. "It is environment-friendly," he said.
Vegetable traders from various districts, including Dhaka, Chattogram, Naogaon and Rajshahi, are purchasing pumpkins from farmers in Bholahat upazila at fair prices.
Ashraful Islam, a farmer in Gohalbari, grew pumpkins on five bighas at an investment of Tk 40,000. He expects to earn Tk 2 lakh.
Farmers say they get about 50 maunds of pumpkins on average by growing the vegetable on one bigha of land. One maund of pumpkins fetches Tk 900 to Tk 1,000.
Sultan Ali, upazila agriculture officer in Bholahat, said: "Since farmers came to know about the inter-crop, they have started pumpkin cultivation and they are now reaping the benefit."
"Many farmers are showing interest. Currently, around 1,000 farmers are cultivating pumpkins."
The upazila agriculture office has fixed a target to cultivate pumpkins on 500 hectares of land spread over mango orchards in 2023.