Four-day event kicks off in Dhaka today
Agriculture Minister Muhammad Abdur Razzaque was addressing a press conference on the convening of the conference at the secretariat in Dhaka on Monday. Photo: Collected
">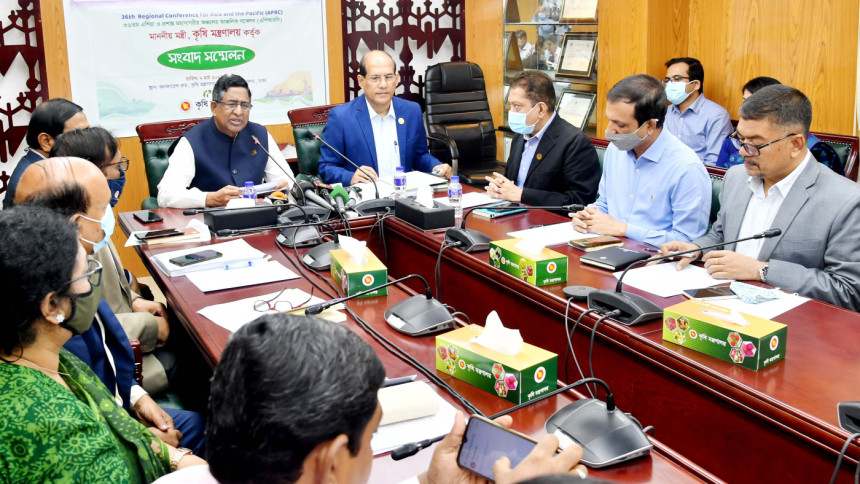 Agriculture Minister Muhammad Abdur Razzaque was addressing a press conference on the convening of the conference at the secretariat in Dhaka on Monday. Photo: Collected
In a first for the country, Bangladesh is set to host the 36th Regional Conference for Asia and the Pacific of the UN's Food and Agriculture Organization (FAO) from today.
The current challenges of climate change in agriculture, building climate-friendly agricultural systems, modernisation of value chains and expansion of agricultural exports will be discussed at the four-day event, Agriculture Minister Muhammad Abdur Razzaque said yesterday.
Besides, discussions will also be held on ensuring food and nutrition security, protecting biodiversity, economic cooperation and joint investment in the region, he said at a press conference.
Razzaque also informed that 42 delegates, including agriculture ministers and secretaries from 43 member countries in the region, are expected to join the conference that ends on March 11.
In addition, 900 people from FAO member states, representatives of various UN bodies, development partners, non-government organisations, and civil society have registered for the event.
This is the highest number of participants in history to attend the conference.
The agriculture minister went on to say that the conference will bring a rare honour to Bangladesh and play an important role in developing agriculture in the country.
The main session, or plenary session, of the conference will be held at InterContinental Dhaka while the opening ceremony, cultural programmes and country showcasing will be held at Bangabandhu International Conference Centre (BICC).
The senior official- and agriculture secretary-level meetings will be held on March 8-9 while the minister-level meetings will take place on March 10-11.
The inaugural ceremony of the conference will be held on March 10 at the BICC, where Prime Minister Sheikh Hasina will act as chief guest, according to a statement from the agriculture ministry.
There will be 16 stalls of the agriculture ministry, food ministry and, fisheries and livestock ministry alongside the main event at the InterContinental Dhaka and BICC. A cultural programme will be organised on the evening of March 9.
In addition, the FAO director general is scheduled to meet Bangladesh's president on March 9 and the prime minister on March 13, it said.
Bangladesh became a member of the FAO in 1983. The Asia-Pacific regional conference is held every two years as an official forum of the FAO, where agriculture ministers and other senior officials of member countries discuss the challenges and solutions of food and agriculture.
The first conference was held in 1953 in Bangalore, India.