Farmers thresh Aman season paddy at Shiromoni, nearly 20 kilometres away from Khulna city. This rain-fed crop accounts for Bangladesh's second-biggest rice output or nearly 40 per cent of annual rice production. Farmers and agriculturists say Aman output is higher this year from the previous year. Despite that, prices of paddy and milled rice have risen in the local market. The photo was taken last month. Photo: Habibur Rahman
">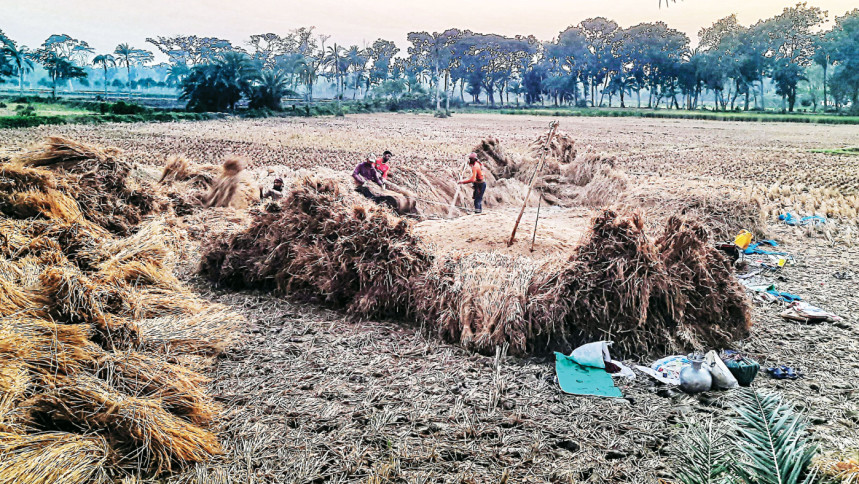 Farmers thresh Aman season paddy at Shiromoni, nearly 20 kilometres away from Khulna city. This rain-fed crop accounts for Bangladesh's second-biggest rice output or nearly 40 per cent of annual rice production. Farmers and agriculturists say Aman output is higher this year from the previous year. Despite that, prices of paddy and milled rice have risen in the local market. The photo was taken last month. Photo: Habibur Rahman
The food ministry has extended the deadline to sign contract with rice millers regarding the purchase of the grain by a week to December 15 this year, said a notification.
The announcement comes as the responses from millers to supply the cereal to the state warehouses are low because of high prices in the local market.
The food directorate targets to buy 500,000 tonnes of rice from the ongoing harvest of Aman crops from millers at Tk 42 per kilogramme.
As of yesterday, it has signed the contract for the supply of around 267,000 tonnes with millers, said Md Raihanul Kabir, director of procurement at the Directorate General of Food.
The food ministry initially targeted to complete signing contracts with millers for rice purchase within December 8 this year.
Apart from milled rice, the food office plans to buy 300,000 tonnes of paddy during the current harvesting season of Aman, the second biggest crop providing 39 per cent of total annual rice production.