High tide washed away inland properties on the low lying areas of Chattogram due to cyclone Yaas. The photo was taken in Chattogram on May 26, 2021. Photo: Rajib Raihan
">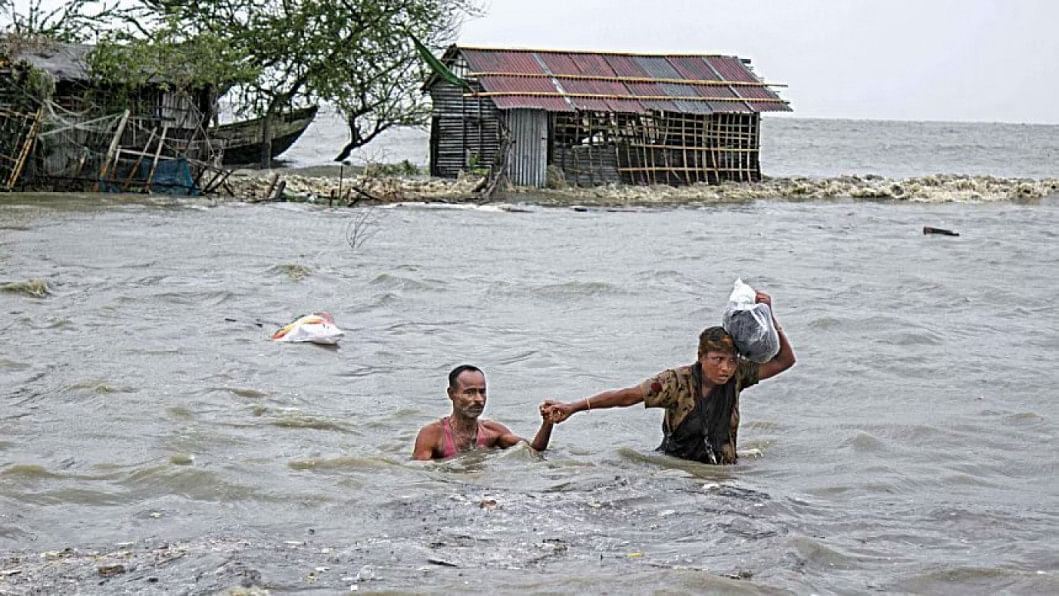 High tide washed away inland properties on the low lying areas of Chattogram due to cyclone Yaas. The photo was taken in Chattogram on May 26, 2021. Photo: Rajib Raihan
In the context of the current global climate emergency, where we are already witnessing its devastating effects on economies, disproportionately affecting vulnerable populations, the need for climate resilience is stronger than ever. The costs of climate inaction far outweigh those of practising climate resilience– according to Deloitte, the former could cost the global economy a staggering USD 178 trillion over the next five decades, wiping out 7.6 percent of global GDP.
At COP27, climate reparations were on top of the agenda. The proposed loss and damage fund aims to mobilise climate finance in countries at the forefront of climate change. While this fund was long overdue, it has, unsurprisingly, met with resistance from developed nations who refuse to concede their responsibility in escalating climate vulnerability in low- and middle-income countries. While negotiations continue, it is imperative to develop alternative approaches to strengthen climate finance for developing countries.
A critical contributor to mitigating the impacts of climate change is the insurance industry. Insurers can be considered one of the most significant drivers in transitioning towards a net-zero economy through its underwriting and investment strategies. Incorporating climate risk modelling in their projections can enable governments and policymakers to make informed decisions in enhancing climate resilience.
Having said that, it is time for Bangladesh to explore new avenues within the insurance industry without it being a double-edged sword. There has been a wave of climate change policies in recent years, but unfortunately, implementation efforts have remained fragmented. There needs to be active collaboration among insurance companies, government authorities, policymakers, and regulators to institutionalise climate change as a national issue.
One of the game-changers here is "parametric insurance." Launched for the first time by African Risk Capacity (ARC) in Madagascar, parametric insurance offers pre-specified payouts based on a trigger event, which are insured based on two main criteria: the event must be fortuitous, and can be modelled.
Another critical component for this product is a well-established payout mechanism. Payouts will be met if the parameters reach or exceed a predetermined threshold. The threshold is typically aligned with the customer, and when dealing with natural catastrophes, the customer's dwelling region is heavily prioritised. The main benefits of parametric insurance are that it provides speedy payouts after the occurrence of a trigger event, and can be tailored for any particular region with the help of satellite data. It acts as a contingency plan in the event of a natural disaster and provides an action plan for utilising the funds to improve crisis relief.
According to Bangladesh Disaster Related Statistics 2021, 54.69 percent of households were affected by floods in 2021 compared to 34.48 percent in 2015. Introducing parametric insurance schemes for people living in flood-prone areas can be a powerful mitigation strategy. Designing financial services that specifically address certain pain points of its consumers will accelerate the country's path to financial inclusion as well as climate resilience.
Bangladesh's insurance industry has come a long way over the past two decades. However, compared to its neighbouring countries, insurance market penetration in Bangladesh stands at 0.5 percent, whereas in India it is 4.2 percent. There is still a dire need for innovative insurance products that are scalable and can mitigate climate change.
The role of parametric insurance in mitigating climate risk for vulnerable countries such as Bangladesh cannot be neglected. It is high time for the country to step into the realm of parametric insurance, drawing inspiration from other countries and setting realistic benchmarks. Time is a critical factor in the fight against climate change, which means actions need to be taken quickly to withstand its impact.
Ameera Fairooz is a postgraduate student at the Faculty of Business Studies at Dhaka University.