Reuters writer Naveen Thukral reported today that, "Chicago wheat rose for a second consecutive session on Tuesday, fuelled by concerns over exports from the Black Sea region after a weekend attack temporarily shut down a key Ukrainian port, disrupting grain shipments."
"'Russia's military strikes near Ukraine's grain export ports have caused problems for loading ships,' said Tobin Gorey, director of agricultural strategy at the Commonwealth Bank of Australia."
The Reuters article noted that, "News that the Ukrainian port of Odesa suspended operations on Sunday after Russian strikes on energy supply put attention back on risks to wartime grain shipments. The port resumed activity on Monday."
Thukral added that, "The U.S. Agriculture Department said that export inspections of wheat totalled 218,460 tonnes and export inspections of corn totalled 505,104 tonnes in the week ended Dec. 8."
Dow Jones writer Will Horner reported yesterday that, "Focus will remain on the state of the Black Sea grain deal and the flow of wheat and corn from the region. Despite jitters about the deal tied to Russian attacks on Ukrainian infrastructure, the flow of cheap grain from the region is providing a drag on global wheat prices, said the U.K.-based Agriculture and Horticulture Development Board."
Bloomberg writers Kim Chipman and Michael Hirtzer reported last week that, "Last month's extension of a Russia-Ukraine agreement allowing for safe passage of exports from the Black Sea has helped cool off recent price gains, potentially easing a scourge of global food inflation."
Meanwhile, Bloomberg writer Kerim Karakaya reported earlier this week that, "Turkish President Recep Tayyip Erdogan discussed ways to expand an agreement to safeguard global grain shipments with his Russian counterpart Vladimir Putin, according to a statement from Turkey's presidency.
"Erdogan in a phone call said different commodities and food products can be included in the grain corridor. Erdogan helped broker the original agreement to ensure continued flows of grain and vegetable oil from Ukraine in the midst of the war."
Continued dialogue with 🇹🇷 President @RTErdogan. Thanked for sheltering 🇺🇦 children & providing hundreds of generators for our cities. Noted Türkiye's support for the Ukrainian #GrainfromUkraine initiative. Also discussed further work & possible expansion of the grain corridor.

— Володимир Зеленський (@ZelenskyyUa) December 11, 2022
More narrowly regarding wheat exports, the USDA's Foreign Agricultural Service indicated last week in its Grain: World Markets and Trade report that, "This year, the prospects for exportable supplies from Australia and Argentina are diverging dramatically. Australia is set to hit record exports while Argentina is forecast to plummet to its lowest exports in 8 years.
"While the bulk of global wheat is produced and exported from the Northern Hemisphere, these Southern Hemisphere producers augment those supplies. Exports from the Southern Hemisphere rise as the new calendar year begins and Northern Hemisphere supplies dwindle.
With major exporter ending stocks forecast at the lowest in a decade and with elevated export prices, the quality and quantity of Southern Hemisphere exportable supplies is critical.
With respect to corn market variables, Reuters writer Mark Weinraub reported late last week that, "Domestic corn supplies will be bigger than previously thought as rising competition on the export market cuts into demand for U.S. shipments, the government said on Friday.
"U.S. stocks of corn will total 1.257 billion bushels at the end of the 2022/23 marketing year, the U.S. Agriculture Department said in its monthly World Agricultural Supply and Demand Estimates report."
"The report reflected Brazil's growing stature as a corn exporter and slightly more exports expected from Ukraine after a Moscow-Kyiv deal brokered by the United Nations and Turkey."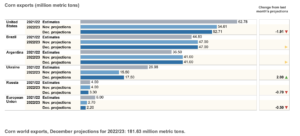 Elsewhere, Bloomberg writer Jinglu Gu reported yesterday that, "Hog prices in China are plunging, which will likely damp food inflation in the world's biggest producer and consumer of pork.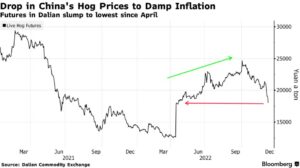 "Live hog futures tumbled more than 7% on the Dalian Commodity Exchange on Monday to the lowest intraday level since April. Farmers are rushing to send large pigs for slaughter to meet demand before the Lunar New Year festival in January, but they are finding that consumption is not as strong as expected."
In policy related news, DTN Political Correspondent Jerry Hagstrom reported yesterday that, "At an event at Tuskegee University in Alabama on Monday, Agriculture Secretary Tom Vilsack announced $325 million for 71 projects under the second funding pool of the Partnerships for Climate-Smart Commodities effort.
"The goal of the partnership program is to expand markets for American farmers, ranchers and foresters who produce climate-smart commodities, leverage greenhouse gas benefits of climate-smart production, and provide meaningful benefits to producers, including small and underserved producers.
The second round of the Partnerships for Climate-Smart Commodities opportunity will ensure small and underserved producers reap the benefits of market opportunities, and invests in capturing the benefits of climate-smart practices at over 30 minority-serving institutions. pic.twitter.com/qjLFEpv8tp

— Secretary Tom Vilsack (@SecVilsack) December 12, 2022
"The $325 million announced today is in addition to the $2.8 billion in 70 larger projects announced earlier, bringing the total investment from both funding pools to over $3.1 billion for 141 tentatively selected projects in the Partnerships for Climate-Smart Commodities program."
In Farm Bill news, an update this week at Hoosier Ag Today indicated that, "Climate change as an issue in the next farm bill is already causing temperatures to rise in the nation's capital. Hoosier native and former USDA Deputy Secretary Chuck Conner believes, 'that this farm bill that we're debating in 2023, will need to be able to carry a label as the most climate-friendly bill that we have every passed in the Congress, in terms of agriculture.' Conner is currently the President & CEO of the National Council of Farmer Cooperatives.
"However, incoming House Ag Chair Glenn 'GT' Thompson (R-PA) sees it differently.
"'We don't need a 'climate change title' in the farm bill. And I'll be honest with you, what we need to do is give credit to the American ranchers, farmers, foresters, for what they do. For too long, there's been a bullseye right on the back of all these families that work so hard to provide us food and fiber, that says 'climate criminal.'"
And DTN Ag Policy Editor Chris Clayton reported yesterday that, "Looking ahead at the 2023 farm bill prompted some strong insights Monday from a pair of former chairmen, each of whom had extensive history shepherding farm bills through Congress in difficult political climates."
The DTN article noted that, "[Former Rep. Collin Peterson, a Minnesota Democrat] pointed to the challenges now where more people and groups are asking for policy changes or higher funding that would increase the costs of the farm bill.
"'We've got people out there all over the place asking for more money,' Peterson said. 'They want more money in the farm bill. They want higher reference prices. Asking for extra money is going to make this a tougher bill to get done.'"
"DTN reported last week about the Senate Agriculture Committee hearing on agricultural research and the calls to raise funding there."