Shammi Ahmed, a housewife at Mirpur, asked her husband to buy two kg of beef as her parents will visit her. Her husband Shahidul Karim, who works in a business house, requests his wife to entertain her parents with chicken as price of beef sells at Taka 750 per kg and that of mutton of ranges Tk 1000-1100.
The prices of beef and mutton have marked a new rise during month of Ramadan going beyond the reach of the mid-income group, let alone the poor group. Unless Bangladesh government prepares mid-and long-term strategies on the livestock taking ground realities, only rich section of the society will perhaps can enjoy the taste of beef and mutton in the coming years, said economists and policy-makers.
Bangladesh should have mid-and long-term strategies to increase production of milk and meat, stakeholders said. Factors like India's ban on the export of beef, high population density in Bangladesh and high cost of cattle feed have all led to astronomically high prices.
Just before the holy month of Ramadan this year, the price of beef hovered around Tk 700 per kilogram, which is selling a Tk 750 per kg now and may touch Tk 800 per kg before Eid. But now, butchers are selling beef at Tk 750 per kg in Dhaka, while mutton costs 1000-1100 per kg.
In the Indian city of Kolkata, the price of buffalo meat is Rs 200-230 per kg, which is approximately Tk 235-270 in Bangladesh, said a Bangladeshi diplomat in Kolkata. Mutton costs Rs 700 per kg there, which is approximately Bangladeshi Tk 820. As Muslims in Kolkata usually consume beef, the price of beef is cheaper compared to the price of mutton there, said the Bangladesh diplomat.
Muhammad Owasim Uddin Bhuyan, who now lives in Islamabad, said price of beef per kg beef is 350 Bangladesh taka (850 Pakistan rupee). However, price of mutton per kg is Rs 1,340, equivalent to Tk 650, said an official of Bangladesh High Commission in Islamabad.
The average price of per kg beef in the international market is around $ 5-5.50, but in Bangladesh it is around $7-$7.50, said Mohammad Shah Emran, general secretary of the Bangladesh Dairy Farmers' Association (BDFA).
Before India put a ban on export of cattle to Bangladesh in 2014, the price of one kg beef was around Tk 230-250 in Dhaka's market in 2014, according to official data.
Prior to the ban, smuggled Indian cows used to meet a substantial portion of Bangladesh's demand. An estimate showed that traders engaged in smuggling brought nearly 2 million cows into Bangladesh.
Statistics from the National Board of Revenue (NBR) show that the number of cattle brought over informally over the borders from India was 2.1 million in FY14. Six years down the line, the flow dipped 90%. In FY20, the figure was only 200,000.
The global average price of beef was $4.63 in FY15-about Tk 360 per kg based on Bangladesh Bank's exchange rate at the time. Beef and mutton prices have shot up in Bangladesh in the last 7-8 years despite enviable success in the livestock sector against the background of the Indian ban on cattle exports.
After the BJP came to power in 2014, the India government imposed a ban on export of cattle to Bangladesh and that helped the country develop its livestock sector to a great extent, said a dairy farm owner.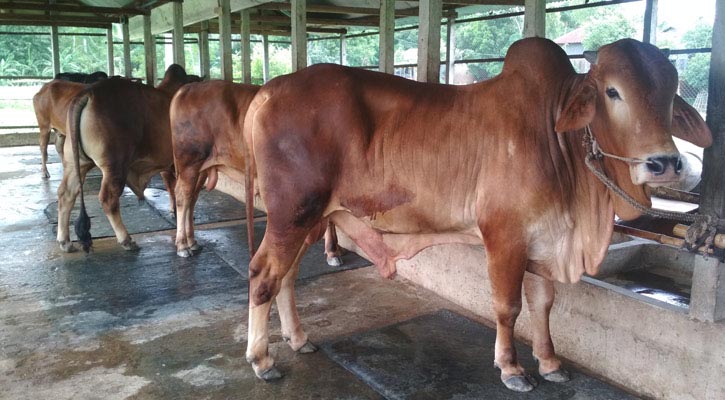 Abdur Rahman, an employee of a state-owned bank, said "Prices of beef and mutton are going beyond the reach of lower and middle-income consumers. Usually, two Dhaka city corporations fix the price of beef and mutton before the month of Ramadan. But this year, the city corporations did not fix the prices."
Some government steps and incentives can help reduce meat prices by 20-25% in Bangladesh, according to BDFA General Secretary Shah Emran.
The cost of rearing livestock is higher in Bangladesh compared to Pakistan and India. Bangladesh is a densely populated country with grazing land that has been disappearing over the years. Geographically, both India and Pakistan are respectively 25 and seven times bigger than Bangladesh. So grasslands are widely available in both countries, he said.
The price of animal feed is also higher in Bangladesh. But the price of this product will come down if TCB imports the commodity and distributes that among farmers, said Emran. He also proposed taking steps to ensure local supply of feed to the dairy farms. The price of electricity in case of dairy farms is commercial and should have a special rate like households have in Bangladesh. As the present government policy encourages cow rearing, the price of the electricity should be normal, not commercial, the BDFA general secretary further said.
Demanding financial support from the government for the livestock sector, he added that the government should develop a system to disburse soft loans at say 3-4% interest to dairy farmers.
He also said the government should encourage import of breeds like Brahman, Simental and Angus into the country to increase production of meat. The same can be applied to goats too, Emran explained. For instance, a male adult Black Bengal goat, found in West Bengal, Jharkhand, Assam, North Orissa and Bangladesh, weighs about 18-20kg while female adults weigh 15-18kg. "The government should allow import of African breeds, such as the Boer or Kalahari, and Indian breeds like the Totapuri and Jamunapari, to increase production of mutton," the dairy association leader said. One hybrid goat can weigh 50-60kg compared to the smaller traditional Black Bengal goat, he added.
In FY10, Bangladesh produced about 1.3 million tonnes of meat, which increased to over 7.5 million tonnes in FY20, according to data by the Department of Livestock Services (DLS).
Over the last 10 years, a good number of young educated Bangladeshis have taken up cattle rearing as a profession. This has helped in making Bangladesh self-sufficient in cattle rearing, an official of the DLS, said while talking to the press. "Before, we had to rely on Indian cows during Qurbani season, but locally reared bulls can meet local demand during Eid celebrations," he added.
Realizing the potential of this sector, a good number of people are entering this business now. Some 50,000 people have joined this business recently who are all educated, many of them are graduates, said economist Ahsan H Mansur, executive director of the Policy Research Institute of Bangladesh.
"In Bangladesh the cost of production is higher because we have to buy the feed at a higher cost. So, the price of beef is still high and the consumer has to pay it," he also said.
Prior to India's increased vigilance, a lion's share of cattle used to be raised using traditional methods by farmers in villages. But now many educated youths and traditional farmers have started rearing high quality breeds through artificial insemination.
According to the livestock department, which started gathering statistics on fattened bulls a couple of years ago, there were 3.34 million fattened bulls in the country in 2017. It increased by around 16% to 3.86 million in 2021. According to the DLS, there are 698,000 cattle farmers in Bangladesh, up from 300,000 in 2015. Bulk of the domestic requirement for meat is met by poultry, according to industry insiders. Although cattle rearing is on the rise, it is not adequate to influence prices yet. Development of breeds to improve per cow meat production is needed, said a DLS official.
Officials at the Department of Livestock Services said 12 million sacrificial animals, including 4.54 million cows and buffaloes, are available for Eid this year compared to 11.8 million last year. The number of goats and sheep are 7.33 million from the previous year's 4,765. The high price of fodder for the cattle is another reason for the high price of cattle as farmers have spent Tk400-500 per sack of 37 kg feed for the last four months, they added.
Touhid Parvez Biplob, proprietor of Bogura Bhandar Agro Farm, said that Bangladesh government should mull over importing breeds and semen of Brazilian, Dutch and American cows and cattle into Bangladesh to increase production of milk and meat.
He said prices of animal feed and labour cost have increased in recent times that also pushed the rearing of livestock.
Touhid Parvez Biplob, also a leading dairy farm entrepreneur in Bangladesh, also proposed that policy-makers should also have serious discussion on the matter against backdrop of sustainable livestock in the country.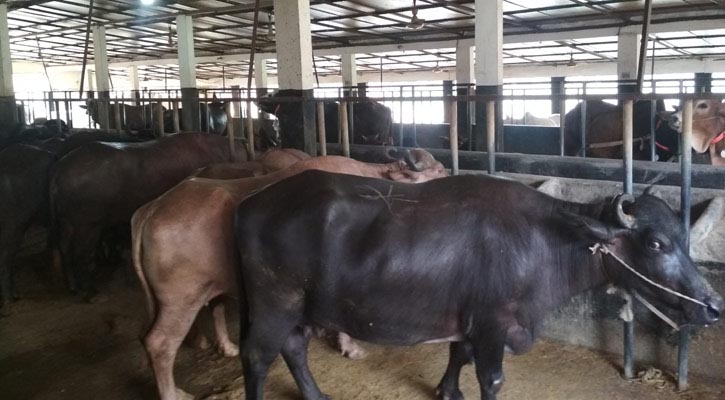 He said a local cow in Bangladesh on an average gives 10 litres of milk compared to 30 litres by a Brazilian cow.
A graduate of the Auckland Institute of Studies, Touhid Parvez Biplob said that Bangladesh has some varieties of livestock like Dashi, Sahiwal, Holstein Friesian, Jersey, Mirkadim, North Bengal Grey and Cross.
He said India has a number of varieties of livestock likr Gyr, Deoni, Sahiwal, Kangayam, Krishna, Umblachery, Red Sinhi, Tharparkar, Ongole, Hariana, etc., that in turn, helps the South Asian country become the largest milk producer in the world.
Meanwhile, the previous Ambassador of Brazil to Bangladesh, Joao Tabajara De Oliveira Junior, held a meeting with stakeholders of the Bangladesh government on transferring of the Brahman breed into Bangladesh. But the stakeholders of Bangladesh government overlooked the proposal on ground that this Brahman breed of Brazil will destroy the Bangladeshi cows and disrupt the production of milk and meat, sources said.
The Brahman or Brahma is a breed of Zebu cattle (Bos primigenius indicus) that was first bred in America from cattle breeds imported from India. Brahma cattle were produced by cross-breeding Kankrej, Gujarat, Nelore (or Ongole), and the Gir (or Gyr) strains. The Brahman is one of the most popular breeds of cattle intended for meat processing and is widely used in Argentina, Brazil, Paraguay, United States, Colombia and Australia among many other places. The American Brahman was the first beef cattle breed developed in the United States.