The agriculture sector needs concerted steps in the impending budget to become advanced, competitive, and efficient, improve farmer incomes, and reduce its dependence on subsidies.
To be sure, India remains an agrarian economy. In fiscal 2022, agriculture and allied sectors accounted for 15-16% of the gross value added and employed ~46% of its population.
For the farming community and rural population, allocations under the Ministry of Agriculture and Farmers Welfare, Department of Fertilizers and Ministry of Rural Development are most critical.
The growth in these allocations bears out the focus on the agriculture sector and rural development. While the overall budget has grown at a compound annual growth rate (CAGR) of 11% in the past decade (fiscal 2013 to fiscal 2023), these allocations have increased at a CAGR of ~12%.
Budget 2023: Procure millets to encourage farmers
Given its importance to the economy, the sector is expected to lead the government's agenda in Union Budget 2023-24 as well.
Among the top priorities for the sector this time around are:
Sharper focus on R&D in agri input sectors such as fertiliser
Top among the agricultural input sectors is fertiliser, which is highly subsidised. Subsidy for the fertiliser sector is estimated to account for ~5% of the total budget outlay this fiscal against an estimated 4% the previous fiscal.
Among the fertiliser segments, urea takes a lion's share of the subsidy outlay. In recent years, subsidy bills for the non-urea fertiliser segment have also increased. The highly subsidised environment for urea has skewed usage towards Nitrogen(N), leading to a much wider N:P:K ratio of 7.3:3:1 (FY22) against the widely accepted ratio of 4:2:1.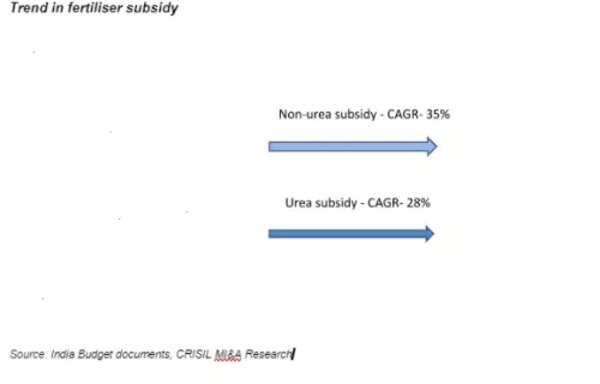 Trend in fertiliser subsidy
The allocation under research and development (R&D) in fertiliser, however, is a mere Rs 1 million, which is negligible considering the fillip innovations are offering. Take nano urea, for instance, where a 500 ml bottle can replace a 45 kg bag of subsidised urea at a lower price, with efficacy to the tune of 80% — this can be a game changer for the industry and the economy.
Therefore, the budget needs to be forward looking, with stronger emphasis on R&D to come up with such innovative products. Not only will it decrease government subsidy significantly, but also reduce our dependence on imports. Similarly, in pesticides, an attractive Production Linked Incentive scheme can be considered. In addition, generous incentives can be given to export-oriented firms, considering exports in this industry have logged a CAGR of 18% over fiscals 2012 to 2022.
In seeds, too, R&D and extension services need attention to reduce the costs incurred by farmers for cultivation. For example, development of a perennial rice variety PR23 in China is likely to change the dynamics of the rice market. This variety is expected to reduce the cost of labour, seeds and boost soil health as well, maintaining yield at 8 tonne per hectare, 2.5 times the average rice yield in India for all the claimed eight harvests of the current varieties.
Increase in coverage of price support schemes
With 40-45% of the total paddy and wheat produced in India getting procured at minimum support price (MSP), acreage under these crops has logged a CAGR of 0.4% in the past two decades.
On the contrary, acreage under millets has declined at 5% CAGR over the same period owing to lack of government support. With 2023 earmarked as the 'international year of millets', the budget needs to focus on schemes to promote these climate-smart crops.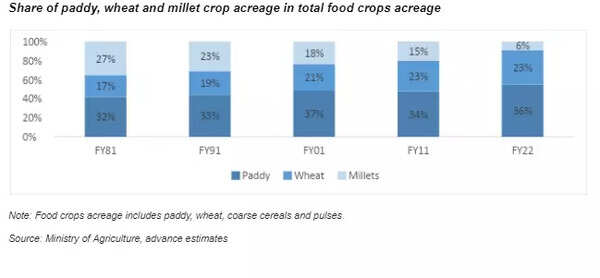 Share of paddy, wheat and millet crop acreage
Similarly, diversification to other crops such as oilseeds and pulses needs to be incentivised to reduce dependency on imports.
Emphasis on agriculture technologies
With better access to technology at the ground level, there needs to be a greater emphasis on using farm mechanisation, drones and Internet of Things to boost agriculture. The number of centres for custom hiring, hi-tech hubs and farm machinery banks has increased over years to facilitate support to farmers. However, the feasibility of technological advancements such as these is low at the farmer level considering the ground reality, where ~86% of farmers in the country are small and marginal. Therefore, plans to introduce advanced technology at a cluster level through centres, where a single entity would be responsible for monitoring the farms through the IoT and carrying out drone applications, can be introduced and supported. Budget 2023: Create assets for farmers to avoid post harvest losses
Digitalisation of agriculture
Digitalisation of the agriculture sector is the need of the hour, especially digitisation of land records and farmer accounts, which can be used for disbursement of incentives under schemes such as PM Kisan and fertiliser subsidies, besides for crop insurance.
Inclusion of tenant farmers is also very important to ensure the support is extended to authentic beneficiaries. Other aspects such as e-commerce for purchase of inputs and selling the produce online through platforms such as eNAM need to be optimised and made farmer-friendly.
Climate change and sustainability
With rising levels of pollution and increasing incidence of severe weather conditions such as heat waves and erratic monsoon, issues such as climate change and sustainability need greater focus.
Emphasis on long-term measures such as usage of renewable energy sources for farm practices and prevention of stubble burning should be incentivised to promote eco-friendly ways of farming. Investment in research and development to bring in climate smart crops should be prioritised.
Additionally, public-private partnership for investment in climate-smart agriculture should be in focus in the upcoming budget.
To conclude, the right cocktail of measures outlined here can give a sustained fillip to the sector for year to come. The budget sure holds the key.
(Pushan Sharma is Director, Industry Research – Analytical, CRISIL MI&A Research. Views expressed are personal)