The explosion occurred in Gulistan, a busy commercial area of Dhaka, fire department official Rashed bin Khaled said.
It was not immediately clear what caused the explosion.
Mr Khaled said at least 11 fire department teams were working at the scene of the explosion.
Bacchu Mia, a police official at the state-run Dhaka Medical College Hospital, said more than 50 people were taken there for treatment but at least 14 were pronounced dead.
Bangladesh has a history of industrial disasters, including factories catching fire with workers trapped inside. Monitoring groups have blamed corruption and lax enforcement.
In 2012, about 117 workers died when they were trapped behind locked exits in a garment factory in Dhaka.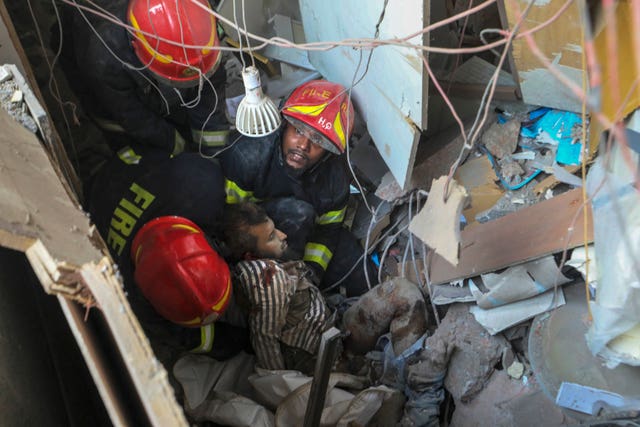 The country's worst industrial disaster occurred the following year, when the Rana Plaza garment factory outside Dhaka collapsed, killing more than 1,100 people.
In 2019, a blaze ripped through a 400-year-old area cramped with apartments, shops and warehouses in the oldest part of Dhaka and killed at least 67 people. Another fire in Old Dhaka in a house illegally storing chemicals killed at least 123 people in 2010.
In 2021, a fire at a food and beverage factory outside Dhaka killed at least 52 people, many of whom were trapped inside by an illegally locked door.